Yonex VCORE Duel G 100 Review
Product Name:
Yonex VCORE Duel G 100
Brand:
Yonex
Rating:
Head Size:
100 sq. in.
String Pattern:
16x20
Length:
27 inches
Strung Weight:
11.1 ounces
Balance:
4 pts Head Light
Stiffness:
65
Beam Width:
20mm / 21.5mm / 21.5mm /
Power Level:
Low-Medium
Swing Speed:
Fast
Made Of:
Graphite
<< Click Here for the latest DISCOUNT on the Yonex VCORE Duel G 100 and to read more user reviews >>
If you're searching for controllable ball-crushing power, combined with high-level spin, then take a close look at the Yonex VCORE Duel G 100 tennis racquet (or stick). This is a superior weapon that intermediate and advanced players can fully exploit.
Yonex has put some serious thought and technology into this new stick. Check out some of the goodies:
Black Micro Core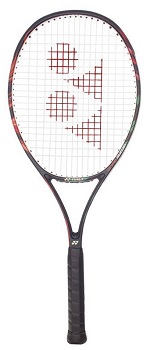 Carbon graphite and elastic particles have been added to the 10 and 2 o'clock positions of the head to reinforce those sections. The objective is to provide additional stability, spin, and power. That's because many advanced players make contact with the ball in this upper hoop region.
Tough G Fiber
This is a strong material that has been added to the midsection or throat area of the racquet. The intent is to give it more snapback, and harness that energy to generate more zip and spin.
Lock Booster System
The upper cross strings and grommet grooves are closer together and locked in place. Similar to the Tough G Fiber, the reason for this feature is to deliver more power and spin.
Isometric Square Head Shape
Yonex has found a way to increase the size of the sweet spot by up to a whopping 48%. Given that this racquet has a head size that is 100 square inches, you can expect more control and fewer mishits.
3D Vector Shaft
The shaft and the around the throat area have been outfitted with deeper grooves to reduce twisting and increase stiffness. The result is improved precision and greater power.
This tennis racquet, which has more weight distributed towards the handle (head light), is made of graphite and has an overall strung weight of 11.1 ounces. The frame has medium to high stiffness, and the string pattern is 16×20. All of this translates into a stick for which it is easy to maneuver and generate swing speed.
It has surprising power from the baseline and is very user-friendly for hitting ground strokes and heavy spins. And because the head is easy to get around, you'll be able to hit angles with better precision.
And if your game often puts you at the net, this model exhibits great touch. There's also a solid feel that creates confidence that volleys will be handled crisply and accurately. If you have great hands around the net, then you'll love how it feels.
User Experience:

"It is just a great all-around stick. I had no problem with big hitters, found a great balance of control, precision and user supplied power. Very nice large sweet spot. This stick is flying under the radar and I am so glad I scooped it up. Love the thin beam and the tight string pattern high in the head. Makes placement on servers easy. Spin was good, key for me was how easy it was to turning defense quick into offense for points."… from around the Web
<< Click Here for the latest DISCOUNT on the Yonex VCORE Duel G 100 and to read more user reviews >>
The only downside that we found to this Yonex stick is that it does not have over-the-top power when serving if that's what you're seeking. But otherwise, on the issues of balance, control, stability, and maneuverability, it's hard to find a better tennis racquet.
<< Click Here for the latest DISCOUNT on the Yonex VCORE Duel G 100 and to read more user reviews >>