As you can imagine, narrowing down the list of the best tennis racquets (or sticks as they are commonly called) from hundreds to the top 8 models was no easy task. In order to do it, we first had to agree on the meaning of "best" for this exercise.
We decided that most people who are looking for top tennis racquets (or rackets) probably have skill levels that range from beginners through intermediate or very serious recreational players. Our assumption is that if you're advanced or playing in high-competition tournaments, this information will be helpful but you likely already have a pretty good grasp of which racquet designs mesh well with your game.
There are several sources and variables that we take into account when evaluating racquets. They include test results, user reviews, specs, quality, value, and price.
So without further ado, here are our top 8 sticks (from beginner to advanced) for this year.

Quick Snapshots: Tennis Racket Reviews
~ Wilson K Factor KZero ~
There are certainly some tennis racquets on the market designed for beginners, but in our opinion, none are better than this one. It's not a brand new model. However, it has been a very popular choice for a while because of how it plays and the quality construction.
This stick is made from Karophite which is a proprietary version of Graphite. It weighs 9.1 ounces strung and is 27.5 inches long. The head is 118 sq. in. and the string pattern is 16×19.
Strengths
– lots of power
– large sweet spot
– very good stability for such a light racquet
Weaknesses
– not meant for full-swinging, ball-crushing hitters
– not good for people who easily experience discomfort in their wrists or forearms
<<CLICK HERE to learn more about the Wilson K Factor>>
~ Prince Textreme Warrior 107T ~
If you're willing to give up a little power for more control, this is the answer. And while the Wilson K Factor leans more towards beginners, this stick would be a good fit for both beginners and intermediate players. The strung weight is 10.5 ounces, with a head of 107 sq. in. and a string pattern of 16×19. It's 27 inches long and is made from Graphite and Textreme.
Strengths
– solid power
– ability to put spin on the ball
– enhanced control features
– nicely balanced for its type
Weaknesses
– a little drop off in power when compared to the Wilson K Zero
<<CLICK HERE to learn more about the Prince Textreme>>
~ Head Graphene XT Radical Lite ~
If you like to run all over the court and play fast, having the right racquet can help. It needs to feel light and comfortable in your hands while making it easy to generate "quick twitch" swing speed when needed. That's what you get with this model which is ideal for beginner and intermediate players.
The strung weight is 9.7 ounces with a head of 102 sq. in. and a string pattern of 16×19. It is 27 inches long and made from Graphite and Graphene XT.
Strengths
– excellent balance and control
– ability to generate outstanding spin
– comfortable to hold
– ability to swing fast
Weaknesses
– drop off in power because of the smaller head size and frame stiffness when compared to the Wilson K Zero and Prince Textreme racquets
<<CLICK HERE  to learn more about the Head Graphene XT>>
~ Wilson Ultra 100 ~
It's hard to find the best tennis racquet that excels in many different areas, but this one is about as well-rounded as it gets. This beauty is made of carbon fiber Graphite and has a strung weight of 11.1 ounces. The head size is 100 sq. in. and the string pattern is 16×19. It's suitable for beginners, but we believe that the sweet spot is intermediate players.
Strengths
– well-balanced
– unique technology absorbs shock and vibration
– great control and maneuverability
– easily switch from offense to defense
– exceptional ball spinning and slicing
– ideal for aggressive and all-court players
Weaknesses
– the power level is in the low to medium range
<<CLICK HERE to learn more about the Wilson Ultra 100>>
~ Babolat Pure Aero ~
If you are a hard-swinging, intermediate level player who also loves to spin the ball, then this model can help to raise your game to a whole new level. Babolat has outfitted it with new technologies to address vibration, comfort, and swing speed.
The Pure Aero weighs 11.3 ounces strung, and has a head size of 100 sq. in. with a 16×19 string pattern. It is 27 inches long and made of Graphite.
Strengths
– easy to spin the ball
– outstanding control
– feels very comfortable, solid, and stable for net play
– minimal shock and vibration
– aerodynamic frame design allows for fast swing speed
Weaknesses
– non-power hitters may not find it to be a good fit unless their game is heavy on finesse strokes such as drop shots, spinning, and slicing
<<CLICK HERE to learn more about the Babolat Pure Aero>>
~ Dunlop Force 100 Tour ~
You say that you want a racquet that effectively combines power, speed, and spin into one nice package? Well, here you go. This stick weighs 11.3 ounces and is made of Graphite. It has a head size of 100 sq. in. and the string pattern is 16×19.
It is a great fit for intermediate and advanced players who consider themselves to be baseliners or all-courters.
Strengths
– very maneuverable
– fast swing speed
– ability to dictate pace and spin
– big servers will find it easier to hit targets
Weaknesses
– feel and touch at the net could take time to get right due to the higher stiffness of the frame
<<CLICK HERE to learn more about the Dunlop Force 100 Tour>>
~ Babolat Pure Strike 16/19 ~
When the marketing folks at Babolat named this one "Pure Stike," they nailed it. That's because the new technology and design all convey controllable power. This is a great choice if you are an intermediate or advanced player who feels just as comfortable hitting from the baseline as you do serving and volleying.
This Pure Strike stick has a head size that is 98 sq. in., strung weight of 11.3 ounces, and a 16×19 string pattern. It is 27 inches long and made of Graphite.
Strengths
– very responsive yet stable
– feels light and fast
– great for targeting first serves and kicking second serves
– easy to activate spinning
Weaknesses
– touch and feel for finesse shots such as spinning and slicing could take a little time to sort out
<<CLICK HERE to learn more about the Babolat Pure Strike>>
~ Yonex VCORE Duel G 100 ~
The Yonex VCORE can do many things, but the key over-arching attribute is precision. Whether you're hitting the ball hard or just seeking to finesse it to a spot on the court, this stick can handle both with confidence.
It is 27 inches long, weighs 11.1 ounces (strung), and is made from Graphite. The head size is 100 sq. in. with a string pattern of 16×20. It's Designed for intermediate and advanced players.
Strengths
– can activate heavy spinning
– high-level of stability and control
– easy to maneuver
– handles net play with accuracy and precision
– fast head speed
– much larger sweet spot when compared to similar head sizes
Weaknesses
– no serious built-in power for ball-crushing serves
<<CLICK HERE to learn more about the Yonex VCORE>>
Bonus Review: Babolat Pure Drive Junior 25
The Babolat Pure Drive Junior 25 offers a nice balance of control and power for your youngster. It is made of Graphite and aluminum and has a strung weight of 8.5 to 8.6 ounces.
This model is 25 inches long and comes with Babolat's first-of-its-kind Smartgrip technology. What this means is that the grip is ergonomically shaped to fit the hand. So, the entire palm will make contact with the grip and feel natural. The result is better control, greater zip, and more comfort.
This stick has a 16×19 string pattern and is head heavy, which translates into crispier and easier swings.
So ultimately what you get is a high-quality, user-friendly developmental racquet with a generous sweet spot. It is ideal for players between the ages of 9-10 years old and 50″-55″ tall.
Interactive Product Comparison Table
If you'd like to perform a quick comparison of the top sticks, use our unique drag and drop table below.
How Drag N' Drop Works
Do you see all of the racket model labels at the bottom of the table? Move your mouse pointer to the middle of one that you like. Then, click and hold your mouse button down as you slowly drag the label into one of the "Drag Here" columns. Release the clicker and all details about the item will automatically fill the space. You'll know that the grab is good if you see a ghostly image of the label as you're dragging it. It may take a couple of tries to get the hang of things.
You can compare up to 3 items side-by-side. And if you want to over-write one of the used columns, just drag a new label to that spot.
Compare Best Tennis Racquets for 2017 - Drag N' Drop
Name/Image:
Brand:
Rating:
Head Size:
String Pattern:
Length:
Strung Weight:
Balance:
Stiffness:
Beam Width:
Power Level:
Swing Speed:
Made Of:
6 Brands Dominate
There are at least 20 tennis racquet brands on the market, but 6 of them dominate this space. They include the following along with some of the top players they sponsor on the pro tour:
– Wilson (Federer, Williams)
– Babolat (Nadal, Bouchard)
– Head (Murray, Djokovic, Sharapova)
– Prince (Isner, Hantuchova)
– Yonex (Wawrinka)
– Dunlop
While our search was not limited to these six, it should be no surprise that they faired well in our top picks. And if you're looking for a racket based on your playing level or style, the following should help.
Best Tennis Racquet for…
Overview: Choosing A Good Tennis Racquet For You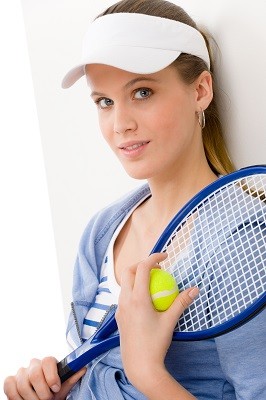 The United States Tennis Association (USTA) categorizes players into three skill levels that are further broken down into a finer rating scale (1.0 to 7.0) for league play. Here they are:
– Beginners (1.0 to 2.5)
– Intermediate (3.0 to 4.5)
– Advanced (5.0 to 7.0)
So, a 1.0 beginner is someone who has only taken a couple of lessons, and a 7.0 advanced player is a top professional.
Narrow The Field By Understanding Your Objective
The racquet each player chooses will undoubtedly be designed with one of the following foundational objectives:
– Provide more control
– Deliver more power
– Seek a balance between power and control (Tweener)
Most modern tennis racquets tend to lean a bit in one direction or the other (more power or more control). But there are plenty that do a good job of balancing these attributes. That's the Tweener.
Advanced players and professionals typically prefer heavier sticks with smaller heads and less rigid frames. That's because they don't have a problem generating power when needed, but they do place a high value on being able to control the ball, spin it, and dictate pace.
On the other hand, beginners are just the opposite. They tend to go with lighter racquets that have larger heads and more rigid frames. This combination makes it easier to consistently return the ball with power, and bigger heads also help to reduce mishits and other errors.
Of course, intermediate players will choose a racquet based on where their skill level fits between the two extremes.
Yes, It Gets Personal
Ultimately, the decision of which stick to buy will come down to the player understanding his or her strengths and weaknesses, and choosing the weapon that best complements their skills, talents, and playing style.
To learn more about choosing a tennis racquet, check out our in-depth buying guide. Discover the ins and outs of head sizes, weight, string patterns, frame stiffness, and lots more.