Find The Best Tennis Gear And Equipment
If you're seeking a great resource to get honest reviews about tennis gear and equipment, then look no further. Here at Full Time Tennis, we have no qualms about revealing the good, the bad, and the ugly.
We don't receive any special fees or incentives to promote one brand over another. All of our reviews are based on research, specs, and user experience and feedback.
And while this web site will continue to expand to cover a wide range of tennis equipment, our centerpiece will be an in-depth exercise to identify the best tennis racquets (also referred to as sticks) each year.
Product Comparison Tables Help Make Decisions Easier
You'll love our product comparison tables that give you the key decision-making information you want at a glance. For example, the one below is a drag n' drop table where you can evaluate up to 3 products side-by-side.
How It Works
Notice that the table has 3 empty "Drag Here" columns and a set of racquet model labels underneath. Simply place your mouse pointer over a label, and then click and hold the pointer as you drag the desired label into one of the columns. All the details will automatically fall into place. To repopulate a column, just drag a new label on top of the old one.
Compare Top Racquets - Drag N' Drop Table
Name/Image: Brand:Rating:Head Size:String Pattern:Length:Strung Weight:Balance:Stiffness:Beam Width:Power Level:Swing Speed:Made Of:
Once a label is uploaded, you should find working links to reviews and prices. So feel free to explore.
The Most Popular Tennis Racquet Brands
There are more than 20 brands, but the top 6 favored by the highest ranking professional players are Wilson, Babolat, Head, Prince, Dunlop, and Yonex. However, there are certainly other quality competitors including Tecnifibre, Volkl, Asics, Donnay, Gamma, Slazenger and more.
Below is some quick information about the top brands and a few of the professionals they sponsor. Just keep in mind that players periodically change sticks and even sponsors.
1. Wilson (United States)
Roger Federer
- uses customized Pro Staff
Juan Martin Del Potro
- plays with the Factor K Six-One 95
- great for control
- 95 sq. in. head with 18x20 string pattern
Wilson is also the choice of Serena and Venus Williams, Milos Raonic, Victoria Azarenka, and Petra Kvitova
2. Babolat (French)
Rafael Nadal
- plays with the AeroPro Drive
- great for pace makers and topspin
- 100 sq. in. head, 16x19 strings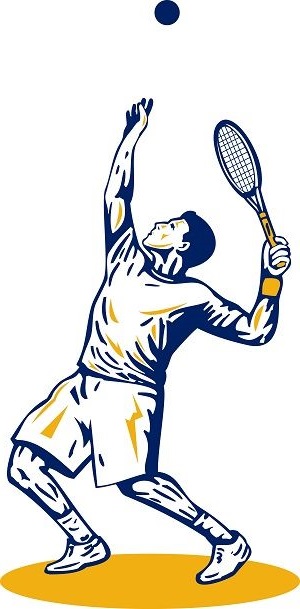 Jo-Wilfred Tsonga
- prefers the Pure Strike 100
- allows for more power and spin
- 100 sq. in. head, 16x19 strings
Babolat is also the choice of Eugeni Bouchard and Samantha Stosur
3. Head (United States)
Novak Djokovic
- likes the Graphene Speed Pro
- excellent for hitting flat ground strokes and spinning
- 100 square inch surface, 18x20 string pattern
Andy Murray
- uses the Graphene Radical Pro
- great for control, spin, and power
- 98 square inch surface, 16x19 string pattern
Richard Gasquet
- likes the IG Extreme Pro 2.0
- excellent for stability and control
- 100 square inch surface, 16x19 stringing
Tomas Berdych
- likes the Graphene Instinct MP
- enhanced stability
- 100 square inch, 16x19 stringing
Head also selected by Maria Sharapova, Sloane Stephens
4. Yonex (Japanese)
Stan Wawrinka
- prefers the VCORE Tour 97
- allows for more spin
- 97 square inches head with 16x20 strings
Yonex also favored by Angelique Kerber
5. Prince (United States)
David Ferrer
- prefers the Tour 100
- designed for all-court players
- 100 sq. in., with 16x18 strings
Prince also favored by John Isner and Daniela Hantuchova
6. Dunlop (United Kingdom)
Nicolas Almagro
- likes the Bimimetic Tour 500 Pro
Now, you might be tempted to dive in and buy the same racquet used by your favorite player. Please don't do that. The pros are using gear that matches their advanced skill and talent level, and playing style. You should do the same, otherwise, you're likely to become frustrated and disappointed.
Mission Statement
Our mission is to help you thrive and grow as a tennis player by recommending quality products that will enable you to unleash your full potential. We promise to go above and beyond to make your experience on this site worthy of your valuable time.