Wilson Ultra 100 Review
Product Name:
Wilson Ultra 100
Brand:
Wilson
Rating:
Head Size:
100 sq. in.
String Pattern:
16x19
Length:
27 inches
Strung Weight:
11.1 ounces
Balance:
4 pts Head Light
Stiffness:
69
Beam Width:
23mm / 26mm / 23mm /
Power Level:
Low-Medium
Swing Speed:
Fast
Made Of:
Carbon Fiber
<< Click Here for the latest DISCOUNT on the Wilson Ultra 100 and to read more user reviews >>
The Wilson Ultra 100 tennis racquet (or stick) replaces and improves upon the popular Wilson Juice line. And if we had to quickly describe it in a few words, we would call this stick the Swiss Army Knife of tennis racquets. That's because it doesn't specialize in one particular area, but it does a number of things quite well.
Key Features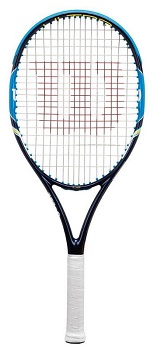 This model is rated for beginners through intermediate players. We don't have a major problem with that designation, although we would skew it a bit more towards the intermediate level.
Head Size
While the head size is an ample 100 square inches, we would still suggest that less athletic beginners opt for sticks with larger heads. Those racquets have wider and more forgiving sweet spots.
Composition
Now, having said that, this is a wonderfully balanced tennis racquet for its type. It's made of high-quality carbon fiber graphite and has a unique cushion foam handle that was created for optimal dampening and shock absorption when hitting the ball.
Weight
The Wilson Ultra has a strung weight of 11.1 ounces, along with a frame that is very firm. These attributes, combined with the head size, are what you'd expect in a racquet that leans towards providing better control.
In fact, if you're an aggressive player or all-courter, you'll appreciate this stick's nice mix of maneuverability, stability, and power. What all this means on the court is that you'll be able to get good depth on your ground strokes, and quickly and easily switch from offense to defense.
What Makes The Wilson Ultra 100 Special?
The 16×19 string pattern plays a key role is allowing for exceptional ball spinning and slicing.
Its uncanny how this stick can feel so solid in your hand, and make it easy for you to generate pace or hit running forehand shots with minimal effort. And if you are an aggressive server, you will be able to work the entire box with confidence.
User Experience:

"This is a great racquet on groundstrokes: it's very stable, with a big sweetspot. The balls jump deep and high with very easy power. Serves are good and the kick-serve is huge, the comfort is excellent too."...Allessandro
<< Click Here for the latest DISCOUNT on the Wilson Ultra 100 and to read more user reviews >>
One Small Weakness
While we heap many accolades on this racquet, there is one weakness. The level of inherent power is not bad, but it could be better. It has about the same amount as the Head Graphene XT, but you'll experience a greater ability to get the Wilson Ultra's head around just as fast despite its heavier weight.
The Wilson Ultra 100 – A Versatile Weapon
Nevertheless, this Wilson is a great all around racquet that is versatile enough to give you a winning edge whether playing singles or doubles.
And if you wish to attach the Sony Tennis Sensor to track your hitting stats, the racquet comes ready.
<< Click Here for the latest DISCOUNT on the Wilson Ultra 100 and to read more user reviews >>