Prince Textreme Warrior 107T Review
Product Name:
Prince Textreme Warrior 107T
Brand:
Prince
Rating:
Head Size:
107 sq. in.
String Pattern:
16x19
Length:
27 inches
Strung Weight:
10.5 ounces
Balance:
3 pts Head Light
Stiffness:
67
Beam Width:
28mm / 27mm / 25mm /
Power Level:
Medium
Swing Speed:
Medium
Made Of:
Graphite & Textreme
<< Click Here for the latest DISCOUNT on the Prince Textreme Warrior 107T and to read more user reviews >>
Much noise has been made about the Prince Textreme Warrior 107T, and with good reason. This is a racquet (or stick) that offers an excellent combination of power and control. It's a great alternative to the Wilson K Factor KZero stick which is a power generating beast.
Key Features & Benefits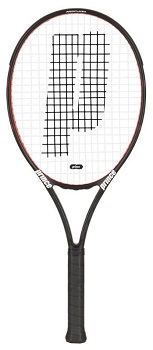 While the Wilson K Zero is a reliable choice for beginners, this one is designed to meet the performance needs of both beginners and intermediate players.
Power
This model throttles back a little on power in its design, but the good news is that you can take bolder and fuller whacks at the ball. And while the Wilson K has more weight distributed toward the head (referred to as head heavy), this one has more weight distributed toward the handle/grip (head light). Thus, it will feel more stable in your hands with less vibration flowing to your wrist and forearm.
Weight
The strung weight of this tennis racquet is 10.5 ounces, and it has a head size that is 107 square inches. So you'll get a stick with a nice large sweet spot that will allow you to play tennis with more precision.
Composition
This racquet is made of graphite and Textreme, which is a proprietary material that is produced using carbon fiber. It makes racquets stiffer and stronger while reducing weight at the same time. Textreme has many applications including use in cutting-edge bicycles, watercraft, race cars, and more.
What We Love About The Prince Textreme Warrior 107T
If you're a little concerned about the small drop off in power, don't be. There are pluses and minuses to all racquets. A big plus for this one is an easier ability for you to put topspin on the ball. This is something that you'll love when you reach the intermediate skill level or if you're already there.
Prince had added some enhanced control features, but don't expect supreme control. At its core, this 16×19 string pattern model still leans towards delivering explosive power. The fact that it has darn good balance is a lovely side benefit.
User Experience:

"I received my new Prince racquet just in time to use it in a weekend tennis tournament. I hadn't had time to practice with it and surprisingly I won the tournament. No one even thought that I had a chance. It was amazing how I was able to make a difference by adding a little more power to my stroke without giving up on accuracy. Also, I was able to add a great deal more spin to my shots that drove the opposition a bit crazy."…Richard Sparno
Click Here for the latest DISCOUNT on the Prince Textreme Warrior 107T and to read more user reviews >>
Well-Balanced
Now, because this tennis racquet is surprisingly well balanced for its type, you'll be able to experiment. This is especially important for beginners. For example, do you perform exceptionally well from the baseline? Or, do you prefer to kick butt by attacking the net as a serve and volleyer?
Use this Prince stick to get those questions answered in real-time. When you do, you'll then be in a position to determine the criteria for any future tennis racquet acquisitions. The best decisions you'll make about your game and gear will come from the actions you take on the court.
<< Click Here for the latest DISCOUNT on the Prince Textreme Warrior 107T and to read more user reviews >>