Head GrapheneXT Radical Lite Review
Product Name:
Head GrapheneXT Radical Lite
Brand:
Head
Rating:
Head Size:
102 sq. in.
String Pattern:
16x19
Length:
27 inches
Strung Weight:
9.7 ounces
Balance:
2 pts Head Heavy
Stiffness:
63
Beam Width:
22mm / 25mm / 23mm /
Power Level:
Low-Medium
Swing Speed:
Medium-Fast
Made Of:
Graphene XT & Graphite
<< Click Here for the latest DISCOUNT on the Head GrapheneXT Radical Lite and to read more user reviews >>
If you're looking for a tennis racquet (or stick) that is light, powerful and will allow you to play fast, you'll love the Head Graphene XT Radical Lite. Its strung weight is 9.7 ounces, making it a little heavier when compared to the Wilson K Factor KZero and a little lighter than the Prince Textreme Warrior.
Head Size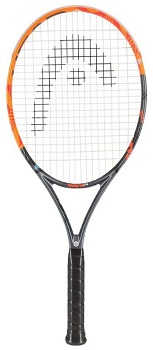 The head size is 102 square inches which puts it on the upper end of the midplus range as opposed to the oversize range. So you're still getting a nice large sweet spot for hitting solid shots. When you combine this with a frame that is more flexible than the previously reviewed Wilson K Factor KZero or Prince Textreme, what you end up with is a stick that provides excellent power, balance, and control.
Swing Speed & Spin
The speed with which you'll be able to swing this racquet will be faster, and with less effort, than the other two. So if you're a baseliner or need to chase balls down, it will give you the opportunity to keep more of them in play. It's light weight will also allow you to run around your backhand, when necessary, and to really lay into forehand shots.
In addition, the 16×19 string pattern will permit you to generate exceptional spin speed for a stick of this type.
User Experience:

"I own several Head racquets, and this particular model has quickly become my favorite. The vendor wasted no time in shipping the racquet, and to my surprise and delight, it was strung."...Verified Amazon customer
<< Click Here for the latest DISCOUNT on the Head GrapheneXT Radical Lite and to read more user reviews >>
Power Trade-Off
Now, there is a downside to this stick when compared to the other two. Because of the smaller head size, you will be giving up a little bit of power. That should not be a major issue if you already possess good swing strength.
This is a great racquet for beginners to intermediate players. It's an especially good fit for those who have high energy and enjoy continuously moving all around the court.
And because this model is nicely balanced, it is comfortable to hold and carry around. This translates into less stress and fatigue for your wrist and forearm.
Composition Of The Head GrapheneXT Radical Lite
The Head Graphene is made from a combination of graphite and graphene, which is a very strong, but extremely thin proprietary material. In addition to reducing the weight of tennis racquets by up to 20% and making them 30% stronger, graphene is also used in other applications such as transparent films, inks, optical devices, chemical sensors, and more.
Smartphone Technology
Finally, this Head racquet is compatible with the Sony Tennis Sensor for tracking your swinging and hitting stats. The sensor is attached to the butt or bottom handle, and the data can be viewed from an app that you download to your smartphone.
<< Click Here for the latest DISCOUNT on the Head GrapheneXT Radical Lite and to read more user reviews >>