Dunlop Force 100 Tour Review
Product Name:
Dunlop Force 100 Tour
Brand:
Dunlop
Rating:
Head Size:
100 sq. in.
String Pattern:
16x19
Length:
27 inches
Strung Weight:
11.3 ounces
Balance:
5 pts Head Light
Stiffness:
70
Beam Width:
23mm / 26mm / 24mm /
Power Level:
Low-Medium
Swing Speed:
Fast
Made Of:
Graphite
<< Click Here for the latest DISCOUNT on the Dunlop Force 100 Tour and to read more user reviews >>
The Dunlop Force 100 Tour tennis racquet (or stick) offers a wonderful combination of power, speed, and spin. If you enjoy hitting from the baseline, then you will find that this stick makes it easy. You shouldn't have any problems getting the racket around and making deep returns.
Some great technologies make this model special. Here are four of them:
Aeroskin CX
This is an application that is applied to the frame's surface to make it more aerodynamic. It reduces the airflow drag over the surface by up to 36%. The result is a racquet that can be swung with more speed, reaction time, power, and maneuverability.
SRX Shock Reduction Technology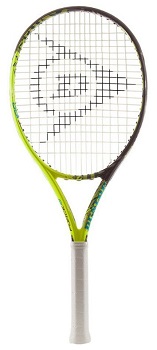 Within the handle is an advanced dampening system that is made with carbon fiber. This minimizes shock and vibration, thus making the racquet more comfortable to wield.
MoS2 Grommets
A glide polymer has been applied to reduce string friction. The result is 27% greater power, more string movement, and increased durability.
Parallel Strung Technology
String and grommet holes are perfectly aligned. This is critical because it allows for greater string movement and an even wider sweet spot. It also means that the stringbed will absorb excess vibration.
This racquet has a head size of 100 square inches, weighs 11.3 ounces (strung), and is very firm. The weight distribution is head light, and the string pattern is 16×19. Based on design parameters, user reviews, and player testing, we would classify this racquet as a Tweener, meaning that it is roughly equal when it comes to providing power and control. But if pushed, we would say that power has a slight edge over control.
As mentioned, baseliners and even all-courters will enjoy this racquet. It is very maneuverable and easy to generate racket head speed. Combine that with the grippy string pattern, and you have the recipe for some very heavy spinning opportunities.
Big servers will also love the ease of targeting and taking full, powerful swings to make passing shots.
User Experience:

"Not sure why this one doesn't get more looks? I picked one up on a whim and liked it more than my Pure Aero. I definitely found it to be more solid and more control with the Force 100 Tour."..from around the Web
<< Click Here for the latest DISCOUNT on the Dunlop Force 100 Tour and to read more user reviews >>
The only downside to this stick is that its stiffness can dampen feel and touch when operating around the net. So you might be inclined to over hit the ball until you get used to the power.
The Dunlop Force 100 Tour is designated for tennis players who have a skill level that is intermediate to advanced. And if you love to dictate pace and spin, then you have a very dangerous weapon indeed.
<< Click Here for the latest DISCOUNT on the Dunlop Force 100 Tour and to read more user reviews >>