Babolat Pure Strike 16/19 Review
Product Name:
Babolat Pure Strike 16/19
Brand:
Babolat
Rating:
Head Size:
98 sq. in.
String Pattern:
16x19
Length:
27 inches
Strung Weight:
11.3 ounces
Balance:
5 pts Head Light
Stiffness:
66
Beam Width:
21mm / 23mm / 21mm /
Power Level:
Low-Medium
Swing Speed:
Medium-Fast
Made Of:
Graphite
<< Click Here for the latest DISCOUNT on the Babolat Pure Strike 16/19 and to read more user reviews >>
The Babolat Pure Strike 16/19 tennis racquet (or stick) is an update to the Babolat AeroStorm line. This is a beautiful stick that plays like a dream. And what flaws it does have are so minor that they hardly bear worth mentioning, but we will.
This model displays a beautiful balance between power and control. The credit can be given to several new technologies:
Evo Beam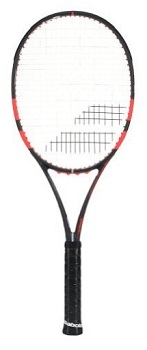 The beam refers to the width or thickness of the frame when you view the racquet from the side. This model is designed to have varying widths as a way to tone down torquing (twisting) when contact is made with the ball.
X-SIDER
Unique grooves have been strategically incorporated into the frame. The result is a sweet spot that is larger and more forgiving when you hit the ball off-center.
Stabilizer Technology
The frame has been constructed in a unique way that blends square and elliptical beam shapes. The result is a racquet that is more responsive. Carbon fibers have also been strategically placed in certain areas to improve stability.
Even if you don't know exactly what all the above technologies mean, rest assured that this is a stick that you will appreciate.
The head size is 98 square inches, although the X-SIDER technology gives you a 10% wider sweet spot to work with when compared to similar sized heads. The strung weight is 11.3 ounces, and the string pattern is 16×19, permitting you to easily activate spinning when needed.
This head light racquet is made for power hitters who want stability and control. It feels light and fast. So if your strategy is to take the ball early and redirect the pace, this stick is up to the task.
Have trouble targeting your first serve or getting the second serve to kick? Worry no more. This bad boy has got you covered.
This racquet is made of graphite, and the frame has medium-high stiffness. So whether you're rallying from the baseline or serving and volleying, the control, and stability displayed by this racquet is impressive. Swinging it feels comfortable and it's quick and maneuverable off serves.
User Experience:

"Awesome racquet. I play on the baseline and depend on consistent, powerful strokes with a lot of topspin. Don't have a big serve, I can play well at the net because of my length, but the majority of my strengths come from my consistency with ground strokes and this racquet has not disappointed in the slightest."... John Ruhl
<< Click Here for the latest DISCOUNT on the Babolat Pure Strike 16/19 and to read more user reviews >>
Great, But Not Perfect
The only minor quibble we had is that players who rely heavily on touch and feel might have to work a bit to get comfortable with drop shots, slicing, and other finesse plays.
Suffice it to say; this Babolat stick is an asset whether you're playing singles or doubles. But it is best utilized in the hands of intermediate to advanced tennis players.
<< Click Here for the latest DISCOUNT on the Babolat Pure Strike 16/19 and to read more user reviews >>