Wilson K Factor KZero Review
Product Name:
Wilson K Factor KZero
Brand:
Wilson
Rating:
Head Size:
118 sq. in.
String Pattern:
16x19
Length:
27.5 inches
Strung Weight:
9.1 ounces
Balance:
4 pts Head Heavy
Stiffness:
70
Beam Width:
26-29 mm Tapered
Power Level:
High
Swing Speed:
Slow
Made Of:
100% Karophite
<< Click Here for the latest DISCOUNT on the Wilson K Factor KZero and to read more user reviews >>
If you're a beginner who is serious about learning tennis and advancing quickly, then the Wilson K Factor KZero is a perfect choice. The first indicator of your seriousness is working with quality equipment. This racquet (or stick) is made from 100% Karophite which is Wilson's proprietary name for juiced-up graphite. Graphite is the most popular material used in top racquets.
Karophite is touted to give the racquet more feel, along with added stability and durability.
A Deeper Look At Key Features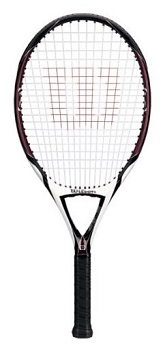 Next, the head size is a hefty 118 square inches which means that you will have an extra large sweet spot for making firm contact with the ball. As you become more consistent at connecting with the sweet spot, your confidence will rise along with your game. Every tennis expert will tell you that your initial stick should have a big head that is at least 100 square inches and preferably a good amount more.
Also, the overall strung weight of this tennis racquet is only 9.1 ounces which is pretty light. But that's to be expected for beginner sticks that are designed to deliver more power. It also has a 16×19 string pattern.
Now, you may be wondering how or why such a light weight racquet can also be a serious power puncher when the average stick weighs around 11 ounces.
The answer is that it involves a combination of criteria. We've already mentioned the oversized head. Then you have to consider the racquet's length. This one is 27.5 inches long which is 1/2 inch longer than the 27″ standard. Longer sticks generate more power.
Further, the frame has above average stiffness and thickness. Top all this off with a model designed with more weight distributed towards its head (known as head heavy) and you have the recipe for a very powerful weapon.
User Experience:

"The racket is over-sized with a really large sweet spot. It has plenty of pop to it as well as a decent amount of spin. It is super-light but still keeps vibration down to negligible levels. It is also surprisingly maneuverable and I was able to volley with it pretty comfortably."…Tim
Wilson K Factor KZero: One Small Downside
The downside to lighter racquets is that you're going to be giving up a bit of control. Fortunately, this one offers very good stability and maneuverability for a stick of this type.
Click Here for the latest DISCOUNT on the Wilson K Factor KZero and to read more user reviews >>
Not For Every Beginner
Now, another thing you should know is that this model is not for every beginner. People come in all different shapes and sizes, and with varying physical conditions and athleticism.
Therefore, you should consider one of the other heavier beginner sticks we recommend if any of the following apply:
– You're a physically strong person who won't require built-in power enhancers to hit the ball firmly.
– You're athletic and plan to consistently hit the ball with full, round-house, swing force. (This racquet is for moderate ball strikers who have short compact swings.)
– You have weak wrists or forearms. (You'll be more sensitive to feeling vibrations which could lead to some discomfort.)
Overall, this is a very popular Wilson tennis racquet that is the choice of many new players.
<< Click Here for the latest DISCOUNT on the Wilson K Factor KZero and to read more user reviews >>