Babolat Pure Aero Review
Product Name:
Babolat Pure Aero
Brand:
Babolat
Rating:
Head Size:
100 sq. in.
String Pattern:
16x19
Length:
27 inches
Strung Weight:
11.3 ounces
Balance:
4 pts Head Light
Stiffness:
69
Beam Width:
23mm / 26mm / 23mm /
Power Level:
Low-Medium
Swing Speed:
Fast
Made Of:
Graphite
<< Click Here for the latest DISCOUNT on the Babolat Pure Aero and to read more user reviews >>
The Babolat Pure Aero tennis racquet (or stick) represents an update and an upgrade of the legendary Babolat AeroPro Drive. It is loaded with brand new technology that will add some serious heft to your game.
This stick is meant for power swingers who love to spin the ball. If that's you, then keep reading because you're about to discover how you can separate yourself from the competition.
Overview Of The Babolat Pure Aero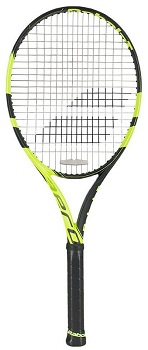 First, let me make it clear that this graphite racquet is meant for players who have reached the intermediate skill level at a minimum. Beginners simply won't have the training yet to take full advantage of what all this beast can do.
This model has a head size of 100 square inches and a strung weight of 11.3 ounces. It is head light and has a very firm frame. The string pattern is 16×19. These attributes describe a racquet that is the epitome of delivering outstanding control.
But Babolat has gone a step further. In exchange for a slight drop off in maneuverability, this racket has received a nice boost in power, comfort, and stability. Three technologies account for these enhancements:
Active Cortex Technology
This greatly reduces the amount of shock and vibration when striking the ball. It makes the hit feel cleaner and the racquet more stable. This model will be easy to carry without quickly feeling arm fatigue.
FSI (Frame String Interaction) Spin
This involves laying out the strings in a special configuration that allows them to move more. In essence, there's wider spacing between the crosses. The result is greater ball bite and the ability to apply some wicked spinning.
Aeromodular 2
The shape of the racquet's throat, shaft, and head areas have been designed in such a way as to reduce wind drag and increase swing speed. What this means is that you can whip this stick around and catch up to balls very fast.
Also, if you are a serve and volleyer, this stick is a monster for net play. When you make your attack, it will feel solid, yet lively and accurate in your hand.
User Experience:

"Heftier racquet yet stable and powerful racquet. Feels that you need to get ready earlier to swing. Once it makes the contact it gives a nice pop and really hit it with a solid impact. So far I like it a lot."…Verified Amazon buyer
<< Click Here for the latest DISCOUNT on the Babolat Pure Aero and to read more user reviews >>
The Small Downside Is Worth The Big Upside
As mentioned earlier, the only downside to this Babolat tennis racquet is that power hitters will get a lot more from it than non-power hitters.
However, the upside is that if your specialty is spinning the ball and placing it with touch, then say hello to your next best friend. You won't need constant power if finesse is your game. Just flex your power only when it's needed.
<< Click Here for the latest DISCOUNT on the Babolat Pure Aero and to read more user reviews >>